Trekking in Nepal is one of those outstanding experiences you should really do at least once in your life.
You might think that not anybody can do it, but here is where you are wrong. With the right preparation and some basic tips, trekking in Nepal is an amazing experience which can be done by anyone.
So here we are going to tell you all you need to know for a successful and colossal adventure for your trekking in Nepal.
This post might contain affiliate links. Click here to read our disclosure
Tilicho Lake: A worthy deviation in the Annapurna Circuit | Nomads RTW
When is the best time of the year to go trekking in Nepal?
During the autumn months of mid–September, October and November, which are known for being the best time to go trekking in Nepal. The monsoon rains have cleared the sky of dust and the views are often spectacular. The valleys are still green and the weather is mild so trekking is far more enjoyable at this time of year.
We did the Annapurna Circuit in October, and the weather was pretty much dry and the sky clear.
Preparation: What do I need for trekking in Nepal?
We know there is an excess of information when it comes to what you need to take for trekking in Nepal. It can be overwhelming.
But we are going to tell you something you are going to love. You don't need much and you should not take much.
And most importantly, all the heavy/ bulky stuff you need, you should buy or rent directly in Nepal, you don't need to carry it with you all the way.
Unless of course, you are an expert and are planning on staying many days and going on the off-peak season. But I reckon those people would not be reading this.
There are actually 2 different lists for the gear you will need:
Stuff you should invest in: These are the pillars for your trekking, and we would strongly recommend investing in the things on this list for 2 reasons: Comfort and practicality. We'll tell you more in a moment.
Basic things you need, but can buy anywhere: These are basics which you still need, but they would not have a big impact if they are not top quality. Also, most of this stuff you can get it once in Nepal.
Nepal trekking gear list
We are sure you have heard many times "the cheap comes out expensive". On the first day of your trekking, you'll see it and possibly regret it.
Trekking boats that hurt, or break easily, jackets that get soaked, fabrics which do not let your skin breathe and are heavy, etc. There are many things that can easily make your trekking a living hell!
That's why after spending 14 days trekking the Annapurnas, we can teach you what we learned.
Also, good quality stuff is probably going to last you forever and will be useful for all your next trips. So don't even think it twice and invest in quality materials to make this experience even more pleasant.
Although you might think otherwise, take into account that every single item described below makes a difference, especially in the weight you take! What we intend with this list is that you take fewer items, but more durable, breathable, anti-odor and faster to dry. These are the best characteristics so you can bring your weight down by taking fewer items but better.
Stuff you should invest in
Make sure you get the things from this list from a trusted place. Although you can also buy this in Nepal and there are a few stores with good quality equipment, there are also many fakes.
We did the Annapurna Circuit for a total of 13 days with the gear listed below. Next to the item, we also point how many of each we recommend for a trekking of similar duration.
Backpack. This is the backbone of your hike, so choose carefully. You should always try it before buying and try it with weight in the inside. Although there are many models out there and we have tried some, so far Osprey is our favorite. The one we used for this trekking was also the backpack we used for traveling for a whole year and it is wonderful! It is the kestrel 38l
Water purification bottle. Best invention ever! You won't only be helping the environment, but it will also save you loads of money and headaches. I even filled it with the water going down the mountain and never had an issue.
Goretex trekking shoes. Goretex trekking shoes are a must. That will make sure your feet are dry if rains or when walking through muddy or wet areas. Also, you are going to use them every day, so make sure they extra comfortable.
We also mentioned they should be good quality because you will find many sharp rocks on the way and some other terrains that could easily break them. And you don't want a broken shoe over 4000 meters, believe me. One pair is more than enough.
Trekking socks. You might not even know about this, but trekking socks are actually a thing. Key benefits are anti-odor technology, they regulate best the feet temperature keeping your feet dry, and they have a comfy base to prevent blisters. Also, they are merino wool which dries faster when you wash them, so you need to bring less. You don't need more than 3 pairs.
Exoficio underwear. If you never heard about this before, now is a good time. Remember all the key characteristics we say something should have for being the ideal item. This has them all. They might not be pretty but is the king in practicality. 3 pairs work good enough
Trekking pants. Again, you need something resistant, breathable and waterproof. You should not be changing models in the mountain, so this should be your only and only for the whole trek. Pack just 1 pair.
Technical -Tshirt. It is a pleasure when you sweat and your shirt does not get stuck on your back! They are also light and really breathable. 3 T-shirts are enough.
Goretex jacket. This is another key component. This should be the isolating layer. You don't need something bulky and heavy. You do need something light, water and windproof, and breathable. To keep you warm you should use layers, which we explain below, but that should not be the primary purpose of this jacket. You just need one of this.
Other basics
Most of this stuff, you can buy directly in Nepal in case you don't want to bring it.
Travel towel/ microfiber towel. Fast dry and light
Power Bank. In some places you will even need to pay to charge your electronics, so taking one is a wise thing to do. If you have a solar power bank it can be even better.
Headlamp. For early trekkings or late ones
Sunglasses.
Trekking poles. They make a massive difference for your knees. I did not know until I tried them and is a must.
Gloves. Is going to be cold at some point, so don't leave any part of your body exposed
Hat/ beanie. For sun and cold weather.
Scarf. This is another must for those windy moments.
Fleece. This should also be a good one to keep you warm when dressing in layers.
Camera with an extra battery. You might have a hard time charging your batteries up there, so better to have spare ones.
Slippers. For shower and resting your feet. (with socks on of course)
Sleeping bag. Simply rent one in any shop according to the weather of the moment. Careful with weight!
Sleeping bag linen. To isolate you from the sleeping bag
Base layers. These are especially good when it starts to be colder. (I actually used them as pajama and on really cold days)
Comfy pants and long sleeve for after the trek. This will keep you dry and comfy. Ideally should be the same you plan to use as pajama
Sunscreen and lip balm
Hand sanitizer
Toiletries (toothbrush, toothpaste, deodorant, floss, etc.)
Biodegradable bar soap
Face/body wipes
Biodegradable washing liquid
Duct tape. This fixes everything!
First aid kit with medicines (ibuprofen and others)
Passport copies.
And do not forget your trekking permits if you need it!
17 useful tips for trekking in Nepal
Take only what is strictly necessary. This is the most important of all.

Your backpack should not weight more than 6 kilograms. That's why we said about technical clothes, they are best, lighter and you need less.

Leave all the excess of luggage in your hotel/hostel. Most of them will give you this option.

Try your shoes and basic clothes before going up. You don't want to find they are not comfy up there.

If you feel comfortable, for most of the trekkings, you do not need a guide. You can save a lot, is safe and most are well marked.

Take enough cash for the whole time of your trekking and a bit more in case of an emergency. There won't be ATM's, and if there are, they might not work

Do not rush. Anybody can do almost any trekking as long as is done at your own pace

Invest in quality gear and you will be grateful for life.

Buy some snacks/chocolate bars before going up. Everything is much more expensive out there

Do take trekking poles if you are hiking for more than 3 days. Your knees will note the difference

If trekking in high season, start early. Many places have very limited space and you might end up sleeping with your bag on the floor if is packed.

Stay hydrated and do not forget to drink. If you get the filter bottle we told you, this should never be an issue.

Dress with layers! If is hot, remove some. If is it cold, just add more

Get a paper map of the area and download Map.me app as back up.

Get a local sim card for your phone. They are cheap and very helpful

In most of the teahouses/guesthouses up there, you can negotiate free accommodation in exchange for having your meals (dinner and breakfast) with them.

Allow time to acclimatize at 2000 meters. Stay at least a couple of nights to prevent height sickness.
Temple in Upper Pisang | Nomads RTW
Everest base camp- 12 days average

Annapurna Circuit Trek- 14 days average

Annapurna base camp trek- 10 days average

Poonhill trek- 5 days average

Langtang trek- 10 days average
Upper Dolpo trek- 21 days average

Mustang Trek- 14 days average

Gokyo lakes trek- 11 days average

Manaslu trek- 14 days average

Everest three passes trek- 17 days average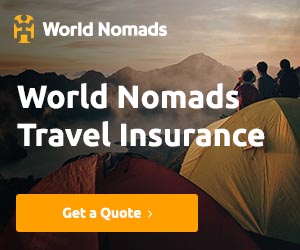 Trekking in Nepal costs
Unless you are doing the Everest base camp, trekking in Nepal is very cheap.
Before the trekking, you only need to pay for your TIM card. Prices and information can be found here.
Other than that, the expenses you'll have will be mainly food and accommodation.
For the 13 days we spent trekking the Annapurna circuit, we spent a total of 14$ per person per day
If you want to know how much it cost to travel to Nepal, you can also see that in our guide to Nepal.
The Best Travel Insurance For Trekking In Nepal
If you are going for a hike then you should always have good travel insurance. To start with, in order to obtain the TIM for trekking, they will ask you for it.
On top of it, is a good thing to have just in case you have an issue.
Our recommendation is to go with World Nomads. This is the one we used not only for trekking in Nepal but for our year around the world.
Why buy travel insurance from World Nomads.com?
Backed by specialist insurers and global assistance partners
Buy Online, even if you've already left home
Buy more cover and claim online while travelling
Covers a range of adventure sports and activities
Give a little back and support a community development project
You can have a quick quote estimation here:
Recommended trekking tours in Nepal
From Pokhara: 4-Day Ghorepani and Poon Hill Trek. Discover the best of Nepal's mountain ranges and immerse yourself in rural life on a 4-day trip that includes a number of short hikes along the Annapurna Trekking trail.

Manaslu Circuit Trekking. Manaslu is the most popular non-tourist area for trekking in Nepal. You'll see beautiful scenery and learn about Tibetan culture in the Gorkha Manasalu region of mid-western Nepal
Ghorepani: Poon Hill Trekking. Ghorepani Poon Hill Trekking is a short and easy adventure around Annapurna region that any individual can join in to make their trekking in Nepal journey a lifetime of memory.
Kathmandu: 14-Day Everest Base Camp Trek. Experience the mother of all the trekking in Nepal. In less than a fortnight you will witness the fantastic sherpa culture along with views of the majestic Mount Everest range in the Khumbu region of Nepal.
Pokhara: 7-Day Trek to Annapurna Base Camp and Hot Springs. Embark on a once-in-a-lifetime adventure on this 7-day hike from Pokhara to the magnificent Annapurna Base Camp. Hike along the most popular and diverse trekking route in Nepal, passing by hot springs, waterfalls, glacial rivers, and more along the way.
Kathmandu: 20-Day Tilicho Lake Trek. Hike to Tilicho Lake, situated at 4,919 meters in the Annapurna Range and one of the highest lakes in the world. Its crystal-blue elegance has attracted visitors from all over the world, and the lake is mentioned in Ramayan, an ancient Hindu book.
Kathmandu: 13-Day Annapurna Circuit Trek. Embark on a fantastic Annapurna Circuit Trek which takes you around the entire Annapurna massif reaching the zenith at Thorong La Pass. This is without a doubt one of the best hikes in the world, and your guides will be with you the entire journey.
Conclusion
Trekking in Nepal will be with no doubt one of the highlights of your life!
You just need to make sure you are well prepared with the simple tips we gave you. Otherwise, pleasure can turn into pain easily.
There is nothing fancy to do, they are all simple tips that anybody can follow.
Ultimately, we met many people in their 60's and even kids while hiking the Annapurnas. This means, that at your own pace and little by little, you can do almost any trekking you want!
We suggest you read our detailed travel guide to Nepal in PDF
If you have any question, just write a comment below :)
Did you Like the Article?

PIN IT!