Since my very first trips, I have always wondered how to make a travel video that worth watching.
Videos are way more powerful than pictures. And I love having vivid memories from my trips, so I wanted to be good at creating my travel videos.
The problem was, that I never had any kind of experience or knowledge about filmmaking or video editing. So where to start?
Most of what I have learned has been through trial and error and watching a ridiculous amount of tutorials. But as of today, I am proud of being able to produce visual travel videos with my experiences. It does not only allow me to enjoy my trips again back at home but sometimes I have even been able to make money out of them.
So if you want to learn how to make a travel video step by step, keep reading
This page may content affiliate links. Click here to read our disclosure
What do I need to make a travel video?
There are only 2 things you need to make a travel video:
A camera. What you will use to produce the video. It could be your phone, a GoPro, a DSLR camera, a drone, etc.
Editing Software. This would be the tool you'll use to edit the video. It could be OpenShot, iMovie, Final Cut, Premiere Pro, etc.
That should be enough to start with. But with the time and as you get better at it, you will end up using more gear like gimbals, tripods, and different editing tools.
Recommended gear to make a travel video
There are different ways you can create a travel video and so there are different tools you could use.
In this list, I have included only the most practical items I use to make our travel videos:
Probably, your main tool is going to be a camera. So I recommend you to check this updated post with the best mirrorless cameras for travel.
Lastly, you are going to need a specific camera bag to have easy access to your gear while keeping it organized. After many bags, my recommendation is the Everyday Backpack of Peak Design. But if you have doubts, you can read about the best travel backpacks and find the best for you.
Tools you need to edit a travel video
There are many tools you can use to edit your videos.
The easiest software tools to edit are iMovie, OpenShot, and Quick. With these tools, you can pretty much drop your clips to the timeline and you'll receive instructions in real-time for the next steps.
These are nice tools for beginners, but even for me when I started, I felt I needed more a few months after using them.
Then I jumped to Final Cut (Apple Only) which I used for a long time. It is powerful yet simple to use, and it really allowed me to improve my videos. But after a while, I needed even more and moved to Adobe Premiere Pro, which is the one I still use today.
It is all about sensations. So I'd recommend to start with an easy one at the beginning if you do not have any experience, and then jump into a more complete tool. But if you do have some knowledge, I would give a try to Adobe Premiere directly.
Kinds of travel videos
Travel videos come in many forms: from the usual walk and talk vlogging style to a more informative documentary style or cinematic.
To find yours, think about the way you want to produce it and edit.
For example, I don't enjoy talking to the camera, so I opted for more cinematic travel videos. These are inspirational travel videos with cinematic footage of the destinations we visit and with music in the background. But that is how I am and what I like to do and to show.
But what is your style? what would you like to show in your travel videos? Once you know how to answer these questions, you will know the kind of travel videos you want to do.
How to make a travel video for beginners
There are many different ways of how you can make a travel video. The process explained in this section is only for people who do not want to invest a lot of time and want an easy and simple solution. If you want much better results and are willing to spend some more time, we'll cover it in the next sections.
To start with, you are going to need some footage. Ideally, in the form of video, although you can also use pictures. You can use your phone or camera with automatic settings to start with. Choose the video functionality and start shooting at your subject.
For better results, try to be as stable as possible to reduce shakiness. Also, try to use as many clips as you can to have a more dynamic video. It is more interesting putting some short clips together rather than a very long one. Take into account than most of the people will lose interest if you keep with the same clip for so long.
Once you have the clips you need to start your project, is time to edit them.
One of the easiest ways to edit a video might be with a single PowerPoint presentation. You could easily put some pictures or video clips together, add some animation and music, and you'll have a simple travel video.
But these days, there are also some free tools you can use to put together a nice travel video effortlessly. Some the easiest editing tools I recommend you to use are OpenShot and Quick
The process to create a video with these apps is pretty easy compared with more complicated tools like Premiere Pro, Da Vinci, or Final Cut. All you need to do is to drag your clips to the timeline, and follow the steps of the live tutorial: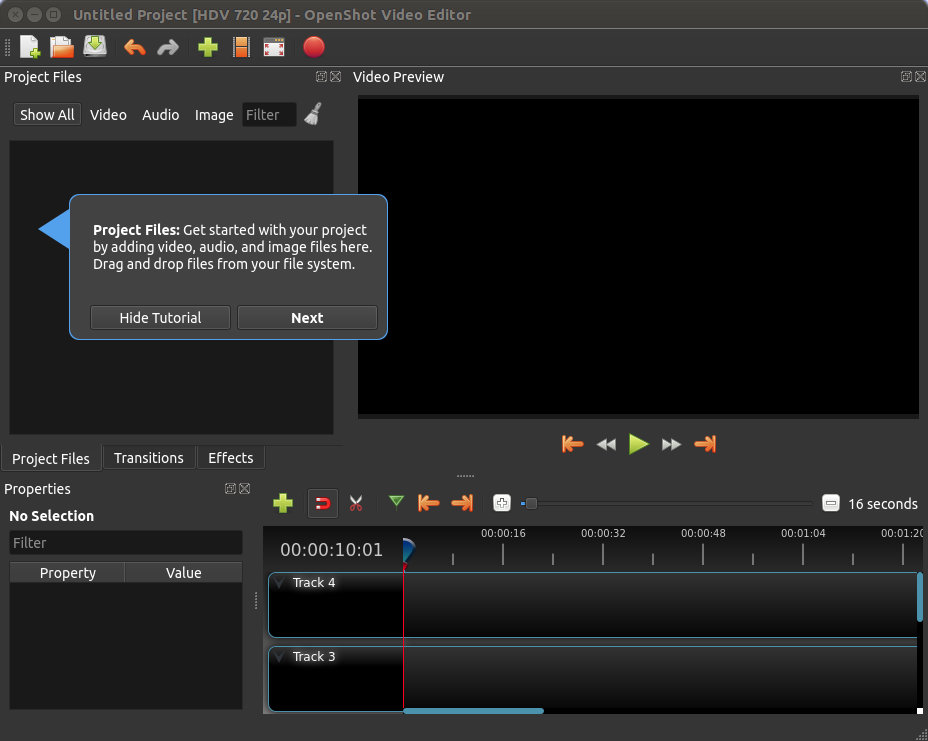 You can use pictures or videos from your phone or camera. And even though the first one might take you a while, it is a very automated process and you'll soon learn how to make a travel video fast.
So if you ask me about the easiest way on how to make a travel video for beginners, these tools would be my answer.
Tips for how to make a travel video worth watching
#1. Invest some time in "formation"
It does not matter if these are Youtube tutorials, blog post tutorials, reading a magazine, etc. But some formation can only improve your knowledge.
Reading this post is already a great start on how to make a travel video, and we hope by the end of this post you will be able to make one yourself. But don't settle with the basic knowledge and go always for a bit more to give that different touch to your videos so people want to watch them.
Since we are talking about how to make a video, you might have guessed one of the best places where to learn is Youtube.
There are a ton of free tutorials in Youtube you can benefit from. The downside though is the time. You might see tutorial after tutorial until you really find the one worth watching and really teaches you something. So my advice is that you look for someone first with a solid audience and many tutorials.
What you need to do.
Look for a Youtube creator aligned to the style of videos you want to create and to the platform you'll use to create your videos. You want to make sure they have a tutorials section and that they upload videos often.
#2. Look for inspiration
I would lie if I said all the ideas of my videos came all from myself. But I am not alone, thousands of creators get inspiration from other artists on Youtube and it is totally fine.
I like to be on top of new techniques, fresh ideas, and editing tricks some other creators use. A clear example is Sam Kolder. This lad has inspired thousand of creators who even have Youtube channels dedicated to teaching how he edits his videos.
I think it is important to see how other people work and learn from them so we can apply some of their techniques in our travel videos.
For example, my first videos were really plain. Just a bit of action here and there, but with no fancy transitions, interesting camera angles, or editing hacks to make them more visual.
Below you can see the proof. On the left-hand side, one of my first travel videos in Zanzibar. In this video, I handheld my camera, I did not use transitions, and it is all pretty much at the same speed with little variations. It is not really bad (I think), but there is a lot of room for improvement.
However, not much later I made the video on the right-hand side about our trip to Hong Kong. And after getting inspired by some videos I saw, I learned some new techniques like the use of the gimbal to reduce shakiness, speed ramps, hyperlapses, etc. You can see there is a big difference between both.
What you need to do.
Your task is to look for a Youtube creator that really inspires you. This has nothing to do with tutorials. This is more about the way they approach subjects with the camera, analyze the kind of shots they include on their videos, transitions, and that kind of stuff. This is about their travel videos and the impact they have on you.
In my case, most of the inspiration comes from Benn TK. I really think he does a magnificent job and takes video edition to another level.
Thanks to him, there is always something new on each video I publish.
#3. Research where you want to shoot ahead.
After we have learned a bit more techniques and have some inspiration, it is time to do some research.
To me, this is one of the most important steps. It would not be the first time I miss a great spot for shooting after I leave. And it can be really frustrating, believe me.
So my recommendation is that you investigate the place where you want to shoot. It does not matter if it is about a city or just a single location like a landmark. The reason is that you might think you'll find the best angle or the most beautiful area once there, but it could be one even more impressive. You can avoid this by doing a bit of research ahead to find the best spots and interesting places where to shot.
It can also be very helpful to find places with little touristic interest but great but shooting your travel video.
What you need to do.
I recommend you to use 3 different ways to do some research about the destinations you plan to visit:
Google. Simply Google the destination and look for Google Images on that destination. If something catches your eye, click on the image to find out where to find that spot.
Youtube. Another easy option is to look in the Youtube bar for the destination you intend to visit and check the videos that catch your eyes. You might get very good ideas on the video itself but also about the locations.
Instagram. I reckon this might be the method we used the most to find cool locations for shooting. Simply insert the place you want to visit in the search bar and click in the result to find the info you need.
#4. Come up with a story
Ideally, before starting shooting you should come up with a story.
I am not going to lie to you, this is probably the most difficult part of all the process, but it is also what makes a difference. With coming up with a story what I mean is to try to establish a timeline in your video, so when you put all the clips together it tells a story and it makes sense.
You don't want to put random clips together with the hope it will make sense. Otherwise, people will get bored and won't watch your videos.
Most of the time, I don't know what the story is until I arrive at the destination and feel the vibes. Sometimes it will be a story focused on landscapes, sometimes on local people, or on us having some experiences.
If you can't come up